Education and training of the kids and teenagers in Safavid period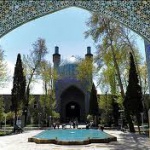 Education and training of children, has existed at home and in family from the oldest period in the form of empathic and imitative aspect and because of its cultural and value aspect, the kids were trained and undoubtedly, social conditions has had influenced in the quality of their training.
Education and training system's duties have found institutional aspect and many family's duties have transmitted to education institution. In Iran, in Islamic period, this prominent institution which has roots in the culture of ancient Iran and religious educations, was changed very fast and appeared brilliantly. After Mongol invasions and Teymour's expeditions, feudal system was extended all over Iran and governmental institution was established in some parts of the country, independently. But Iranian culture and dependant institutions ( Education and traning) saved their unity to some extent. With the emergence of Safavid dynasty, Iran benefited national independence. But the emerged union was mostly governmental and on the base of force.